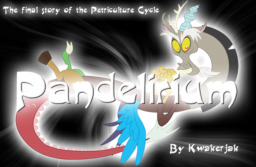 This story is a sequel to π
---
After Twilight Sparkle made her biggest secret public much earlier than she'd originally planned, the lives of the Element-Bearers and their closest friends somehow managed to become even more complicated than they already were. Yet despite the flurry of all of the added activity this brings, Princess Celestia decides to undertake a particularly ambitious project: the reformation of Discord. She delegates the task to Penumbra Noctis, who, more than anypony else, can empathize with the draconequus' situation, and who is therefore best suited to showing Discord the magic of friendship. On the surface, it's a very reasonable plan.
Unfortunately, Discord has never had much patience for reason.
This is the fifth and final story in The Petriculture Cycle. Reading the first four stories, which begin here, is highly recommended.
Artwork by Page Turner. TV Tropes page by an unknown number of anonymous persons on the internet.
Chapters (11)