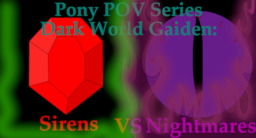 This story is a sequel to PONY POV SERIES SEASON 8: FINALE!
---
This takes place narratively after the entire pony pov series, IE, Pony Pov Series episode 435 (actual final chapter, "I wish you all to fair well my friends.") as there are spoilers for the entire series in here. So please read this last.
This was commissioned by me years ago to Godzillawolf, who has only now gotten around to completing it. I felt the story might have needed more polish, but after all the blood, sweat and tears he put into working it, he just waned it DONE, and I can very much appreciate that.
The story will run about 3 parts give or take.
The title says it all really about what this IS about! It's SIRENS, verses NIGHTMARES, who is gonna win? No matter who wins, we lose.
I hope you enjoy this final run through the pony pov series.
PLEASE don't forget the Pony POV Series Trope page! https://tvtropes.org/pmwiki/pmwiki.php/FanFic/PonyPOVSeries
Cover art by Godzillawolf.
Chapters (4)