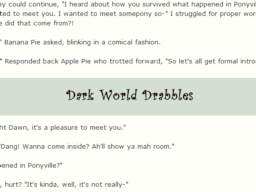 The Dark World Series has been a long hard road. A story of redemption, atonement, and revenge...But what about what we didn't see?
What was Twilight the Unicorn doing before she met up with Applejack?
What were the Apple Pies up to while the heroes were off fighting Discord? Who are the Apple Pie Clan?
These are the untold stories of the Dark World.
Warning, spoilers!
Loose Canon.
Pony POV Series belongs to Alexwarlorn!
My Little Pony belongs to Hasbro!
I made the picture myself!
P.S. Yes, I know these technically aren't drabbles, but it made for a catchy title.
Chapters (17)