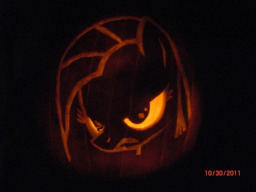 Source
After Pinkie Pie is found at a gruesome crime scene in downtown New York, police apprehend the suspect and ask one of their top agents and psychological profiler, Twilight Sparkle, to carry out the interrogation of the cold-hearted mare that calls herself Diane. As their little chat draws on, will Twilight be able to keep it together in front of this killer, and will she be able to bring back her pink fluffy friend from the depths of her own broken mind?
Short story that will reach 3 or 4 chapters. This story does not contain actual gore but will contain mild description. If you are sensitive to blood and guts and the idea of a serial killer Pinkie, you are warned. I think the idea of a serial killer Pinkie is quite strange actually, but it makes for a good psychological thriller. Psychology is fun :3
Also, artwork is NOT mine. It belongs to Originalham on DeviantArt. I did not ask permission to use this artwork, which I just found on google, I used it because it was fitting. Upon request from Originalham, I will take it down, move my lazy ass and commission an artwork myself.
Enjoy!
"Keep it together Twilight. Keep. It. Together!"
Chapters (3)