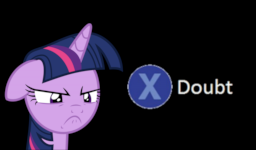 Source
Inspired by Parting Words, by RHJunior
Princess Celestia is the paragon of Harmony. She is kind to her subjects and generous to those in need. She is loyal to her ideals and never compromised. She has a good, if mostly unknown, sense of humor. Above all else, she is always honest. Right?
Twilight Sparkle trusts Princess Celestia implicitly and in all things. The Princess has never steered her wrong, not once. When Twilight thought that her concerns for Nightmare Moon were being ignored, Celestia had her back, even if she was withholding information.
Wait a minute.
Shortly before Celestia leaves for Canterlot with the redeemed Luna, Twilight has a conversation with her mentor that will change her perspective on the Princess forever. She will receive something new, beautiful, and damning all the same.
Cynicism.
Six Little Words or: The Question That Twilight Didn't Ask in Canon.
Violence Tag: Implied torture.
Comments are back open. Please try to keep it cordial.
Chapters (5)