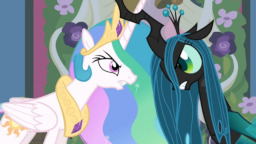 Princess Celestia is, compared to the average pony, unimaginably old. With this age comes an extreme amount of experience, wisdom, and a healthy tolerance to pain. That, coupled with a protective instincts of a mother for her nation means that when Chrysalis managed to burn her, a very hard and uncompromising side of Celestia was revealed.
Of course, that doesn't mean Celestia is ruthless. She only goes as far as she needs to.
Violence Tag: Violence spoken of after the fact.
Dark Tag: Themes of war, attacks on civilians, and slavery.
Chapters (1)