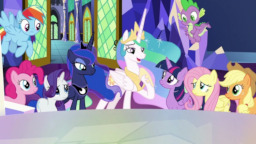 Celestia and Luna have just announced their intention to retire and pass the throne to Twilight.
Before everyone can start assuring Twilight she'll do great as ruler of Equestria, Twilight refuses and explains why it wouldn't make sense for her to take the throne. From there, the conversation swerves.
This is a story for those who think Celestia and Luna retiring is a bad idea, and that Twilight found her true calling as a teacher rather than a ruler.
Featured: 8/22/2020 - 8/26/2020
Chapters (1)