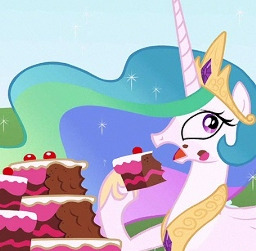 Sometimes I get impatient with how long I write and how long it will take before I get to a part I want to write, and then I write it anyway. (Which is why I'm calling this Eating Dessert First; it doesn't have much to do with dessert, no more than my other fics anyway, but it's me writing the "good parts" first.) This is a compendium of snippets from future parts of my fics, or single-idea scenes where I don't know if I want to write the rest of the fic, or character practice scenes -- basically anything pony that's out of its larger context, assuming there's going to be a larger context.
Because this is a compendium, it's tagged Random because literally any other tag (with the exception of Second Person, which I will probably never write in) could be included. I'll mark individual chapters with what tags they ought to have and what characters are in them.
Note: Cover art probably has nothing to do with the actual fic. Unless I do decide to do a snippet about Celestia and cake.
Chapters (6)