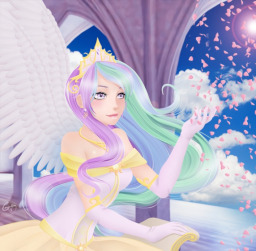 Source
This story is a sequel to Too Close to the Sun
---
"I have experienced a change. For the first time in many years, I find myself uncertain of what step to take next. I am not one to be so perturbed, but here I stand- as unsure and inexperienced as a young girl.
I have... a companion. A champion to call my own. In all my years I have stood alone, yet now I have a hand to hold in the darkness. It is... difficult to know whether or not I have made a wise decision.
Recently I discovered this journal, a gift from dear Luna that has been left untouched until now. I believe that I will, for the time being, use this diary to record my thoughts on the matter. Perhaps this will help clear my mind."
Hey, we've been featured! 04/05/2019, thanks so much everyone!
Chapters (25)