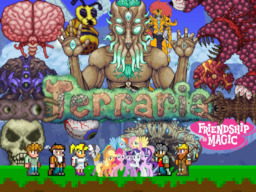 The Main Six have just defeated The Storm King, thus saving Equestria. They celebrate their latest achievement with their friends and loved ones. However, during said celebrations an eldritch horror of unknown origins rips a hole into the very fabric of reality using the moon as a doorway to another world. This being proclaims dominance over all of Equus, all shall bow before the might of The Moon Lord. All hope seems lost for all of the Equestrians until yet another phenomenon enters Equus and manages to pull The Moon Lord back to whence he came. The Main Six, Zecora, and Starlight Glimmer are unfortunately dragged into the portal as well which lands them into a whole new world: Terraria.
Featured:
12/5/2020
1/4/2021
1/7/2021
1/11/2021
Thank you all so very much!, it's all because of you!

---
DISCLAIMER: Terraria, MLP: FIM, and some of the art presented in this story belongs to their respective owners.
Foreknowledge of "Terraria", isn't entirely necessary but it does help nonetheless.

Chapters (74)