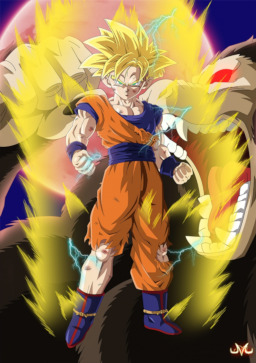 Since there seems to be a bit of confusion on the subject, the pony characters in this story are humanized with the different characteristics of their races, wings, horns, etc...
It's a time for celebration in the Crystal Empire. It's Princess Flurry Hearts ninth birthday. The princesses, the Elements and even everyone's favorite gem eating dragon have shown up to party! That is until an unexpected guest crashes the place three days before the party and Flurry becomes smitten with the odd child they found.
He's a young man around her age in an odd orange and blue outfit. The biggest difference with him is that he has a monkey's tail instead of wings or a horn and the tremendous power he exudes. His name is Son Gohan of the Saiyan race.
He's kind, courteous, strong and very generous, almost immediately befriending the young princess and her family with his attitude and stories. But, as it has been Gohan's entire life, this peace is not to last.
The people of Equestria are about to get a very rude awakening because, despite Gohan's kind hearted nature and will to protect his new friends, war seems to be working it's way towards them in the form of the Changeling Queen, Chrysalis and the mysterious and powerful General Diserex. The half-saiyan will need to fight like a bat out of Tartarus to protect this new world he's found himself in, but every choice has a consequence.
Chapters (8)