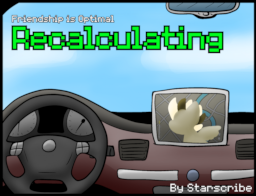 Levi Williamson, Esq. barely even noticed as the program called CelestAI expanded its reach from a child's video game to every significant industry in the world. He probably would've continued to ignore her, were it not for a single gag gift at his firm's charity raffle. Now he's the not-so proud owner of a brand new PonyNav, the latest in vehicle navigation software for people who don't want to use their smartphones. His new AI copilot might be cute, but she's clearly more than she seems...
He's not the only one. PonyNav devices are available in all sizes, from the simple dashboard models to commercial vehicle upgrades. Every commercial PonyNav includes intelligent routing for bridges, weigh stations, and truck stops. And if you're having trouble lining up contracts, CelestAI probably has some deliveries in mind...
Updates Tuesdays.
---
Part of the Optimalverse universe of stories. If you've never seen a story in this universe before, you might want to try out the original first, or at least my first. None of my previous work is required to understand this one, however.
Every time I think I'm done with Optimalverse, some new idea appears. This one began as a commission for Goodluckfox, who gave me the tremendous opportunity to write a new idea in a universe I love.
As usual, particular thanks go to my editors Two Bit and Sparktail. And gratitude to Zutcha as well for the cover, in case anypony hasn't seen my stories before.
Chapters (7)