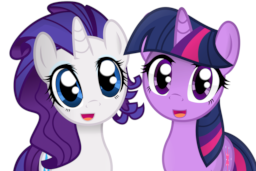 Source
A collection of prompt based RariTwi short stories that are less than a thousand words.
!!!This collection is now dead with these last few stories, please see the Finer Things: The Rarilight Collab by Donraj for more RariTwi shorts.!!!

These stories cover a number of different genres, so there is something in this collab for everyone to enjoy.
Authors of all skill sets are encouraged to participate, if you want to participate go here.
Many thanks to the wonderful artist coltsteelstallion for the cover art.
Chapters (83)