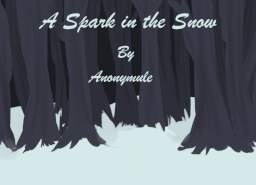 After being coerced by Sweetie Belle to use a real Hearth's Warming tree, Rarity finds herself to be in quite the dilemma. Because of how late in the season it is, there aren't any Hearth's Warming trees left in town to be sold. Frustrated, Rarity vents to her friends during their weekly lunch date. Unfortunately for her, all of her friends are busy, and are unable to help her with her problem. Applejack, wanting to help suggests enlisting the help of her older brother Big Macintosh to help Rarity get her Hearth's Warming tree. Spending the day with each other, the fashionista and the draft horse soon develop a friendship.
As the holidays approach, could this newly formed friendship turn into something greater?
---
RariMac one shot written for the Hearth's Warming Romance Contest in the Unloved Couples Group.
---
Special thanks to metallusionsismagic and saloony78 for their assistance in the pre-reading/editing of this story.
Chapters (1)