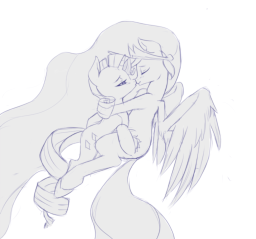 Source
Princess Celestia is overseeing the preparations for the blessing ceremony of the castle of friendship. She visits Rarity's shop from whom she has contracted to design and create the royal gowns that will be worn by the princesses during the ceremony. They chat for a little while. Rarity then excuses herself to locate the appropriate fabric, while Celestia looks through Rarity's dress drawings. Soon, she finds a little red art book stuffed towards the back of the drawer containing drawings of ponies, some even of her, most are innocent but, a few are more sensual. Celestia is intrigued by this and confronts Rarity about it.
Will this lead to an awful embarrassment for Rarity, or will it be something else entirely?
Written for Marshmallow Shipping's RariLestia contest.
Thank you Amneiger, for your assistance!
Cover art credit to Jalm on Derpibooru.
Chapters (1)