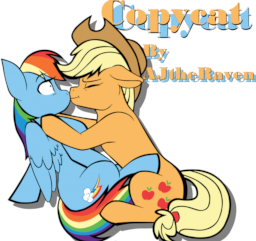 When Twilight Sparkle accidentally casts a spell on Applejack that forces her to voice all of her thoughts, Applejack realizes that she is in danger of revealing her feelings for Rainbow Dash to the entire world. At least Rainbow Dash isn't around to hear her.
Right?
Cover art by the amazing and talented Multiversecruise!!! Love this dude!!!
Entry for the Appledash contest.
Featured on August 24, 2017!
Chapters (1)