Found 2 stories in 63ms
---
Total Words: 7,796
Estimated Reading: 31 minutes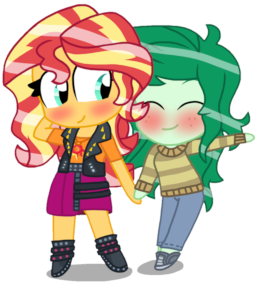 Source
Wallflower Blush expected the Rainbooms would forget about her once she was no longer a magical threat. Sunset Shimmer had other ideas. Now, largely without meaning to, Wallflower has somehow become the first human to visit Equestria. On a date, no less.
At least that's the only thing she'll have to worry about. After all, what in a world full of candy-coated magic ponies could possibly be as terrifying as being in a relationship with Sunset Shimmer?
And why did Pinkie Pie just shudder and give Wallflower that pitying look?
An entry in Oroboro's Sunset Shipping Contest: Journeys. Rated Teen for mild profanity, oblique references to horse nudity, and just to be safe.
Thanks to Speckle and SoloBrony for prereading.
Chapters (1)