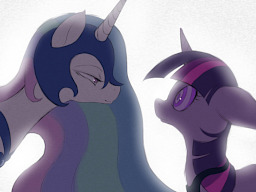 With the Lunar Rebellion reestablished by Luna's return, Celestia is desperate to find any way to hold on to her sovereign power. Twilight supports Celestia, dedicated until the end, going out and trying to maintain the support of the general populace. The ponies wonder, though, why is she so loyal to the dictator?
What about Rainbow Dash? What side will she, the element of loyalty, choose when forced to choose between her friends?
Gore tag is in place just in case. If there is gore in the future, it will be a light amount.
Chapters (2)