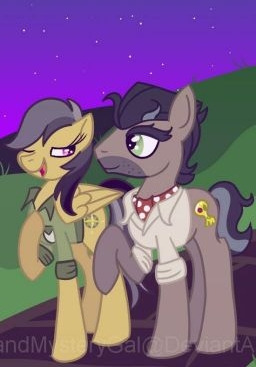 WARNING: Minor spoilers for Season 9.
---
Daring Do is an adventurer who transforms the tales of her adventures into stories for all of Equestria to enjoy. Now that she and Caballeron have become a team and Ahuizotl was revealed to have good intentions from the start, there's not much material to write about anymore.
Hungry for new adventures, Daring Do and Caballeron set out to find an adventure they could go on. Unfortunate for them, they find an adventure that's more dangerous than meets the eye. Tangled up in a new villain's scheme to steal artifacts from Ahuizotl, they might just find the greatest adventure of all is their path to becoming more than just friends.
---
Author's Note: A shipping experiment because... Quibble Pants x Daring Do is no longer possible due to the new episode in Season 9.
Chapters (1)