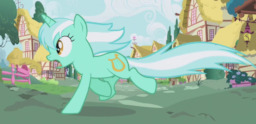 Source
This story is a sequel to Life of Lyra
---
The fateful day has come and gone. Nightmare Moon returned to Equestria and was dealt with by Twilight Sparkle and her friends. The tale of Equestria is not told yet, however.
Lyra Heartstrings is seeking a true purpose to her life, Sweetie Drops is seeking safety for the ponies of Equestria, Scootaloo seeks the sky itself, and the bat ponies of Thestralia are looking for friendship.
See This Blog for licensing.
Chapters (27)