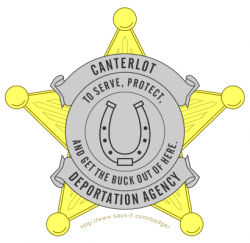 When one of the CDA's human agents stops an incursion, they're given the reward of time. Typically, they have two hours in Equestria to do whatever they like, within the limits of what the Princesses will allow. Some hike through the mountains. Others quietly sit by pristine rivers so they can look at what they're trying to defend.
On a warm spring night, Melissa has her two hours, and she wants to use the time for connecting with a friend.
The friend wants something more.
(Follows up on the original, which should be read first. Two other more optional followups exist.)
Now has a TVTropes page and character sheet. New edits welcome.
Now with author Patreon page.
Chapters (1)