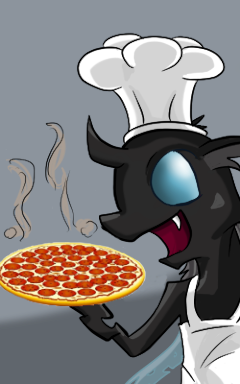 This story is a sequel to Extra Cheesy
---
Twilight and Lyra met up at the newest eatery in town, Cheesy Changeling Pizza, decided that not only had it been way too long since they had really had some fun together, but invited Bored along too.
Bored is a special kind of changeling. When his Glorious and Masterful Queen, Chrysalis, announced that a pizza shop was going to open in Ponyville, he was too slow to avoid being volunteered to work the counter. He was terrified delighted to find out that the Princess of Friendship wasn't the changeling-destroying monster everyling made her out to be, and was actually pretty sweet—taste wise.
But that was another story, another cheesy story. This one is about what came later. This is, Totally Cheesy.
Contains: Fun, silliness, changelings... again. But this time there is totally a cameo from the rest of the mane6! Rated T this time because mention of alcohol.
EDIT: So, this universe is completely identical to the normal canon universe, except Twilight Sparkle freakin' loves cheese (unlike the first time, I now know what a quesadilla is, but the cheese-puns are just too tasty to leave alone).
See This Blog for licensing.
Chapters (1)