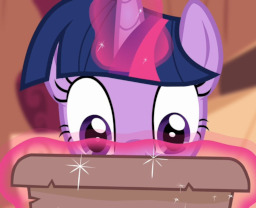 Chocolate Swirl's job was to read those words, and what came after them. He had to make sure every last friendship letter was stored and ready to be retrieved. He knows so very much about Princess Twilight Sparkle, but that doesn't prepare him in any way for meeting her.
Trigger Warning: Contains scenes that may induce 'daww', 'squee' and possibly diabetic coma. You have been warned.
See This Blog for licensing.
Chapters (1)