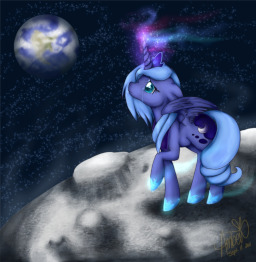 My attempt at a more serious 'Luna meets Neil Armstrong' storyline. What would really happen, both on the moon and on Earth? Inspired by 'The Eagle has Landed' by CyanBlackStone.
Princess Luna has found herself on a very different moon after some strange force interfered with her banishment. She doesn't know what the metal objects that keep orbiting and sometimes landing there are, but she wants to find out. Meanwhile, Neil Armstrong believes that being the first man on the moon will be the crowning achievement of his life. Hoo boy, is he ever in for a surprise.
For those who are interested, the most excellent Zanec has provided this link to an interactive Apollo 11 site.
Chapters (8)