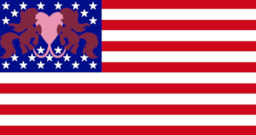 A sudden and powerful magical event consumes all of Ponyville in the space of a few moments, and when Twilight and her friends come to, they find the landscape around them quite different. And the world they discover, to be devoid of magic and inhabited by strange beings.
One of these beings is Asher Burgess, the oldest son of the family whose secluded, Colorado ranch has suddenly become the location of an entire town of alien creatures overnight. Their lives are changed forever as they find themselves the link between the ponies and their own nation.
Bewildered by this new world, things start getting more urgent as more of the Equestrian world arrives piece by piece, and not all of it is so friendly. Searching for answers, Asher, Twilight, and the rest of the gang stumble onto more questions, and uncover an amazing secret. One that could either save them all, or doom both worlds to annihilation.
(Set just after the events of season 3 finale. Diverges from there, movie has no effect.)
Graciously edited by Dream Seeker, Commander Fire Starter, Sharp Quill and Absurd Tomfoolery
P.S. A request if you will: When someone gives a "dislike," would ya'll mind commenting why? Especially if it has something to do with a writing skill.
Chapters (17)