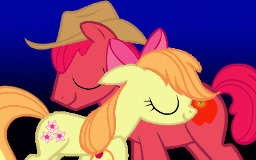 While doing some spring cleaning, Applejack discovers her parent's journal in the attic, where she learns the fantastic truth about the hidden life of her parents. How they met, How they lived, and Why they died. There's some feels, some daaws, and some action. All in the life of an outlaw
This is the story of Red Apple and Lily Bloom, or as history knows them:
The Sundance Colt and Calamity Mane.
P.S. Based loosely on the idea of Bonnie and Clyde, and I stress loosely. Thought I'd give another take on the missing generation of Apples, and make it fun even though I plan on it being pretty short. My first time trying a romance, so bear with me. By the way, it will be totally PG. And I don't have any editors right now, so there's bound to be a couple of errors. This has a comedy tag, but judging by the source material you may understand that sad feels may or may not enter this story.
Cover art by me! Yay!
2/24/14 - HOLY CRAP DID THIS JUST GET FEATURED!!?? HECK YEAH!!!
Chapters (5)