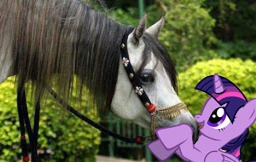 [img]http://i.imgur.com/6MrWqNZ.png[/img]Twilight takes on the most important task in her career as a princess of Equestria, when she opens up a magical portal to a distant world with extra-Equestrian intelligence. With her organizational skills and keen understanding of scientific principles, she leads diplomats and scientists in a well-planned expedition to a historic first contact.
The first exchange doesn't quite go without a hitch, however, as the portal opens near a pony ranch at Texas, Earth.
For the purposes of this fic, assume Equestria Girls didn't happen.
Former one-shot.
Chapters (9)