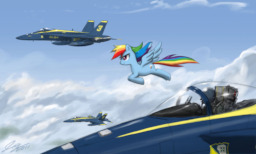 Source
When the Elements of Harmony defeated Discord, they did their job too well, and completely undid all of the things Discord directly did...
... Like send a subcontinent from earth into a pocket dimension so he could focus properly on his toys. And now Equestria has appeared on Earth.
Yet, neither side was completely ignorant of the other. On Earth, there was the show "My Little Pony: Friendship is Magic" and in Equestria there was the ever popular movie serial "The Dark World: Technology is Courage" which was a favorite of colts everywhere as well as the "Pumans".
And now both sides learn through an event that the other is real. Come join us as we watch as both sides learn to work and live together. And as they find out that events on their respective fiction was not as nice as it seemed as we widen the lenses of the view points...
A Round Robin created on SpaceBattles of which I am a participant and am posting with all their permission.
Chapters (7)