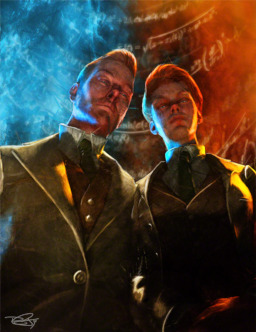 So you all can hear me right?
Of course they can. They always can.
I know I just wanted to make sure the connection is working properly.
Well, it is now get on with it. We haven't got all day you know.
Alright, fine.
It was supposed to be a fun time at Comic Con with my sister and a few friends. Naturally going as the Lutece twins something bad was bound to happen. Now in a magical land of ponies we discover that a silver coin has given us the power to open tears and learn from other universes. What could go wrong.
I must say, that isn't the greatest summary, I've ever read
I know, but It's the best I can come up with at the moment.
Shame, now let's get going. Things to do-
-and people to see.
Somewhat based off F*** it I'm Having Fun, Screw the rules we're on a road trip,Malideus, and The Rise of Darth Vulcan
Chapters (3)