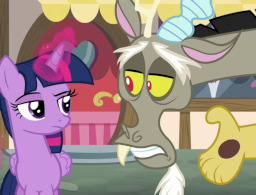 This story is a sequel to She Did WHAT To You?!
---
After Princess Twilight Sparkle delivered an unimaginable punishment to Queen Chrysalis, Discord takes it upon himself to have an important talk with her. A Draconequus-To-Alicorn Talk. He's watched on long enough.
Will his talk with Twilight, or therapy session, be effective?
And if Twilight thinks having Discord as her unexpected pseudo-therapist is crazy enough, wait until she sees who else has come to "help" her...
Enough will be explained to be able to understand what's going on in this story (and laugh) without needing to first read this story's prequel or its prequel Nopony Interrupts My FRIENDSHIP SPEECH, Starlight Glimmer!!
Chapters (1)