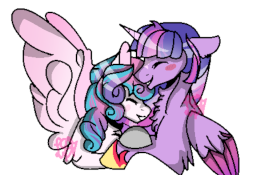 Source
Flurry Heart spent most of her foalhood listening to stories of favourite Aunt Twilight Sparkle's many accomplishments.
Now a young mare seeking her place in the world, Flurry has attempted to model herself in Twilight's image. One could even say that Flurry idolizes her aunt.
Twilight wishes she didn't.
It's time for a chat.
---
*Set 15 years after the end of Friendship is Magic*
Huge thank you to kalash93 and son_of_heaven176 for their tremendous work on editing and proofreading!
*Coverart is not owned by me, all credit goes to kiwi4578 on Derpibooru*
Chapters (1)