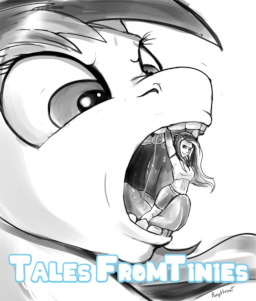 Source
Something Miraculous has happened: All of Humanity has entered Equestria! Now, both humans and ponies can unite in harmony, bring in a new era of peace, and progress technologies for both species! ... That, unfortunately, doesn't happen. Instead, Humans are no taller than four inches, and though ponies find humans to be cute & helpful in some cases, they really find them as delicious treats. Join these small humans as they survive in a new world filled with giant ponies that love to hunt them & keep them in their bellies, but are also compassionate enough to help them in situations.
Now with a Discord Group
Conatins: Soft Vore and some heartfelt moments.
Variety will be attempted to add.
1st person: What else?
2nd Person: You are added.
EQG: Takes place in Equestria Girls universe (though not a lot)
Guest: Not made by me, but different authors. Feel free to submit me your own fanfic that goes into this world, just mail me.
New Cover made by Ponythroat! So awesome of him!!!
Edit: Title added! Photoshopped in by my friend Shrunken-LittleBro12.
Discord for story: open for everyone to join.
Spinoffs!

Tales From Tinies (NSFW Version) ( ͡° ͜ʖ ͡°)
Chapters (134)