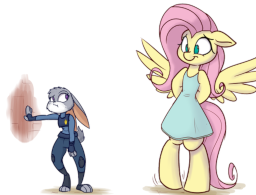 Source
The newest police duo, Officer Judy Hopps and Rookie Nick Wilde, are on another case that's all too familiar to the Nighthowler incidents.
Meanwhile, an accident in Twilight's castle accidentally causes Fluttershy to wind up in the city of Zootopia, a city bustling with mammals, where she stumbles upon the police duo.
Though loving the city at first, Fluttershy wants to go home... but after a series of events, she must team up with the Duo to find out where more of the Nighthowler is coming from, explore the different parts of Zootopia, and hopefully, find a way back home... and stop her urge to cuddle with Judy along the way.
Mostly made because everyone says 'why isn't there a Zootopia crossover?' And this is an unofficial sequel to the movie that loosely follows a certain Theory
Zootopia and it's character all belong to Disney, so please, support the official release, and spoilers abound if you haven't seen the movie... go on, do it! It's a good film.
Cover by Heir of Rick
Edited and cowritten by SudokuBrony
FEATURED!!! 7/27/2016. And when a chapter has been uploaded so far.
Chapters (11)