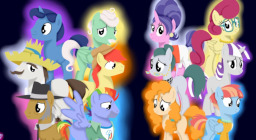 Source
An honest farmer in love with a mare, who's family is a rival to his. A wannabe sports star with his biggest, and loudest, cheerleader. A coach to a local sports team with a very motherly baker. A Rock Farmer trying to find out if he wants to follow his family's tradition or be something else and an inner city mare forced to go to a small & quiet town. An accountant searching for a new business with a student from Celestia's school for gifted fillies. And a local cloud worker with a silent admirer that wants him to notice her.
This is just the beginning of who they are, the type of shenanigans they get into, and how they became who they are today.
Fathers And Mothers of the Mane 6 were made by liniitadash23.
Both Pictures were edited in together by my friend, Shrunken-LittleBro12.
A Headcannon idea I've had for a while since The Perfect Pear was leaked Aired.
1/20/2018
FEATURED!!!
Chapters (5)