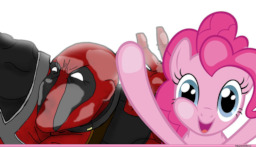 Source
Meet Deadpool: a mercenary, an assassin, and overall, an antihero in the Marvel Universe. He has the ability to quickly heal, thanks to some tests made from the Weapon X Program that healed his incurable cancer, but left his mental stability down the toilet. If any of you know the real Deadpool, don't worry, he's not the same silent freak played by Ryan Reynolds in the piece of s**t prequel starring Hugh Jackman as a short guy with metal claws. If you have no idea who or what is going on, please, look it up.
Meet Equestira: A magical land that hosts many mythological creatures, but mostly god horses, unicorns, pegasi, and boring horses. Everything is ruled by two god horses; Princess Sun Butt and Princess Moon Cheeks. Sun Butt rules during the day, controls the sun, protects land from monsters, indulges in male anatomy shaped fruit & cake, and abducts children... at least that's what wikipedia says. Moon Cheeks rules the night, controls the moon, plays with people in the 'apple master race', haunts children as the next Freddy Krueger, and plans how to take over the world when no one is watching. There's also six horses that act as the 'mane' stars and a bunch of other background & side characters that this Fan Base loves... like this girl that... loves... rocks. I don't get it.
Deadpool (C) Marvel Comics
Featured: SO MANY DAYS!!!
Proud Crossoveree with:
Open for other Crossovers
Chapters (190)