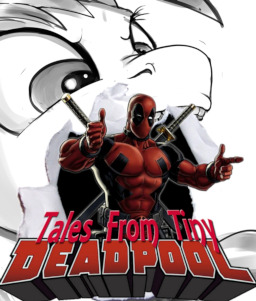 Edited and Co Written by MrAqunio a sort of non-canon Deadpool crossover with Tales From Tinies.
Deadpool has found himself going on a rescue mission to save a lost boy, but lands in Equestria. It seems great, but it's discovered that tiny humans live alongside with the giant ponies and other native creatures. Deadpool must travel across the land of giants to save a lost boy and fight his way through some old and new foes, with the help of friends, also old and new.
Original Cover by PonyThroat
Alternate Covers.
Cover 1.
Cover 2.
Cover 3.
Chapters (6)