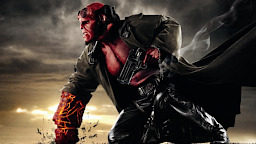 While I'm pretty sure that being transformed into a Hero from a Movie can be considered cool in more than one way, I just don't see it.
"This... is so wrong."
Being sent to a land where Myths and Legends come to life is not a fun way to die.
"Nice puppies?"
It's not Hell, and it's not Heaven, and I'm pretty sure that this isn't Nebraska!
"Oh, crap."
I'm not sure what happened.
"Thou vile beast, We demand to know how you appeared here!"
"You and I both, lady."
And apparently I'm not very good with first impressions.
"... She started it!"
"Thou deceiving mongrel, We weren't the one who started the battle!"
"You threw the first punch, I just returned the favor."
And even without interruptions by some assholes...
"You know what is the difference between us?"
"Oh, pray to tell?"
"I'm fireproof, you, not so much."
I feel that my goal to get home will be pretty hard to achieve, all thing consider.
"But that's impossible!"
"You know, I'm pretty sure that by now this word left my dictionary forever."
---
{Character-tags will be updated with the story.}
{Currently being Edited by The Snide Sniper.}
Chapters (1)