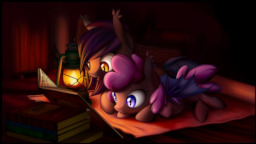 Source
Coverart by http://xn-dragon.deviantart.com
Trigger Warning: The word "Anonymous"
Some three centuries after Twilight Sparkle's coronation, something stranger than anything in Equestria's history appears in the very heart of Equestria itself. A human, lost, confused, and alone, finds himself warily welcomed by the rulers of this strange land.
After trading information about himself for information about the world he'll soon call home, he leaves from Canterlot to the quaint and quiet town of Ponyville, where he eventually meets a lonely bat-pony by the name of Speck.
A rewrite of the original ( http://pastebin.com/u/NukePone ) with additional content, restructuring, and fixes.
Featured from 09Jun14 to 12Jun14
Repeat feature nearly every time a new chapter is posted.
Chapters (25)