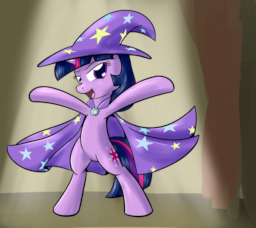 Source
Some realize that Trixie is not the first to bear the title of The Great And Powerful.
Few realize that it is less a title and more a curse.
The one who kills The Great And Powerful shall ever after be cursed to become The Great And Powerful.
On a related note, Twilight Sparkle is having a very bad week.
---
Featured, 12/04/19-12/06/19, and 12/09/19-12/12/19!
Reviewed by PaulAsaran, with a rating of Pretty Good!.
Also reviewed by Titanium Dragon with a rating of Not Recommended.
Listed in Equestria Daily's 21 of the Best Trixie Fanfics for Trixie Day on 10/31/2021!
Chapters (5)