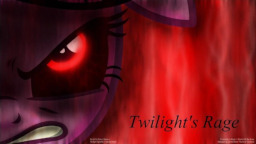 Source
What if Spike had been home when Tirek destroyed the Golden Oaks Library, and had been killed? What would Twilight do? More importantly, who would be able to stand in her way and stop her when she delivers retribution to those who have caused her to lose everything? After she defeats Tirek in combat, she turns her focus on all of Equestria, and those whom she lays blame upon for the death of one she held dear to her.
With the combined powers of all the princesses inside of her, and a deep anger within her soul, can she be stopped, or will all of Equestria answer to her wrath?
---
Written for the Twirant's Kingdom Competition in the Tyrant Sparkle group.
---
Proofreading and editing done by:
DustyPwny
Chapters (3)