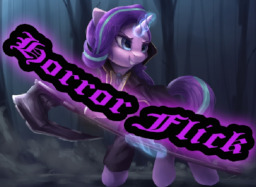 Source
There are many rules to a good horror film. Most ponies learn them with time and experience.
Twilight never did. Now, trapped in a desolate inn at the end of a long driveway, far from help, she will learn of them. Or, at least, one of them. The one Rarity, her only surviving friend, insists is keeping Twilight alive.
To everyponies misfortune, Twilight has questions, and fleeing in terror like she should will not get her the answers.
It's going to be a bad night for the killer.
Edited by the Illustrious and Maleficent Crowscrowcrow...crow...crow...crow
Cover image made by vanillaghosties.
Chapters (1)