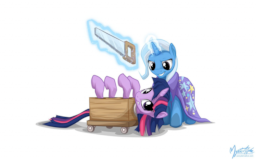 Source
It's a few weeks until Twilight Sparkle assumes the throne of Equestria, and Ponyville's come out in style to celebrate their homegrown Princess!
And after a whole day of songs, food, dancing, and entertainment, Trixie's on-hoof for the final act of the night. One last, blowout performance to win the hearts and minds of the ponies who once mocked her. It will be great. It will be powerful.
Let's just hope everypony survives.
Featured: 3/13/20!
Chapters (1)