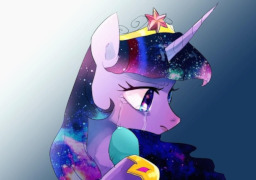 Source
In time, all of Twilight Sparkle's friends have had to say their last goodbyes. And as the last of the original Cutie Mark Crusaders passes on, the Princess decides to send her off in grand fashion.
But after the party, the tears, and her newer friends have moved on, and Twilight is all alone once again, somecreature she once thought of as a friend decides to visit her for tea.
Memorial, or Desecration? Twilight might just have to decide tonight, on the loneliest night of her life...
---
Now with a Spanish Translation by Spaniard Kiwi.
Russian Translation by AngryShutty.
Chapters (1)