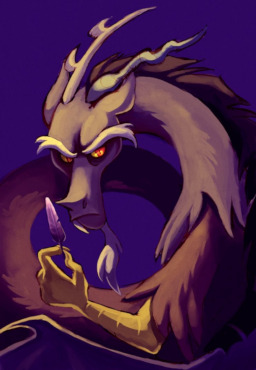 Discord knew this was coming. He knew. So did Princess Twilight. They knew. They saw it coming a mile away. Yet, they let this happen anyway. Why couldn't they just let things stay the same? Who's the bigger fool here?
As of Nov/12/19 this story has made it to the featured page! That has never happened to me before! Hell yeah! Welp, as of Nov/16/19 the story isn't on the featured page anymore. Oh well, nothing lasts forever.
Author's Note: Okay! So this is a pretty simple story I pumped out because I was in a depression-fueled journey through immortality and its repercussions after seeing the finale of the show and realizing we've been right about it all since bucking SEASON 3! But whatever, it's fine, we're all fine. Just so you know I did NOT have any proof readers or editors so if you want to point stuff out that I got wrong, I'll happily fix it. COMMENTS ARE MUCH APRECIATED! Please leave one if you can think of something to say or if you just have something relevant to share. Also, maybe let me down gently if I suffered from "talking heads" too much in this. Improvement is a slow process and I'm rusty as all hell. Okay? Okay.
Chapters (1)