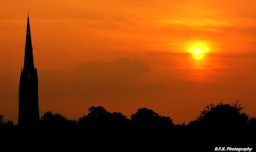 A few weeks before her college graduation, Sunset Shimmer attends Twilight Sparkle's funeral. She'd rather be anywhere else but here. She'd rather think about anything but what role she played—or didn't play—in her girlfriend's premature death.
We don't always get what we want, though. After the last several months, Sunset knows that better than anyone.
Winner of Oroboro's "Sunset Shipping Contest: Endings." Rated T for language, not-exclusively-adult themes, and brief tobacco use.
Chapters (3)