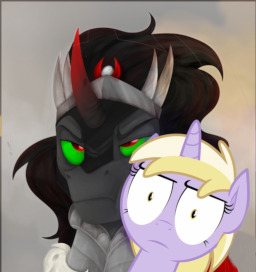 The plan, he thought, was perfect. Instead of returning to the mortal world as a shade of his former self, King Sombra would transmute his soul into the body of his greatest foe, using her influence and power to destroy Equestria from the inside and take vengeance on the Princesses that stole his beloved empire.
There's just one problem: after her fight with Tirek, Twilight Sparkle changed her address. This turns out to be a much bigger problem than Sombra thought. A Dinky-Doo-sized problem, to be precise.
---
5th-place finalist in the More Most Dangerous Game contest.
---
Cover art crudely Photoshopped by me from this and this. I am art and so can you.
---
Chapters (5)