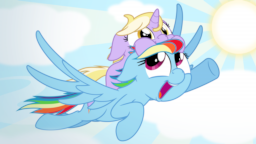 Source
Set in Chengar Qordath's Winningverse. Rainbow Dash is Dinky Doo's godmother, and she's volunteered to take her out on her very first Nightmare Night! As a responsible godmom, it's her job to make sure that the holiday's nothing short of perfect for her. And what better night could she ask for? Costumes, candy, awesomeness, candy, pranks—and of course, candy. It's almost too much for a little filly to handle.
Fortunately, Rainbow totally has this covered.
Special thanks to my pre-readers: Comma-Kazie, Chengar Qordath and Ponibius.
Chapters (1)