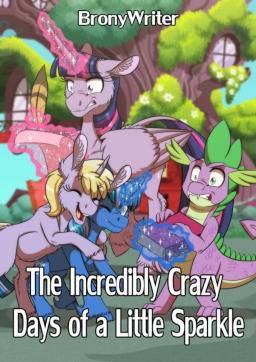 Midnight Sparkle, Twilight Sparkle's distant ancestor, wakes up one morning to find that she's traveled forward in time several hundred years. Now she must try to get home while enduring an Equestria that is nothing like the one she knows.
That, and a ten year old with a fondness for painting animal skulls pink living with her great-great-great-great-great-great-great... etc. granddaughter poses some unique challenges of its own, even if there are those around Ponyville who are willing to become her friends.
Midnight Sparkle from Chengar Qordath's The Lunar Rebellion
Now co-authored by Ponibius
Thanks to Chengar Qordath and Ponibius for editing!
Special thanks to InuHoshi-to-Darkpen for the awesome cover art!
Chapters (9)