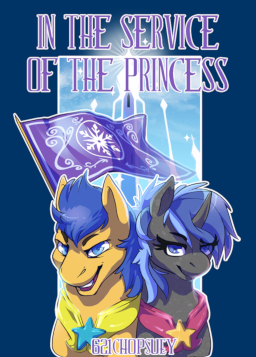 Source
Flash Sentry is your typical pegasus in the Crystal Guard, always there at Her Highness's beck and call, escorting her everywhere she goes, and making sure nothing goes wrong. But that's the problem: nothing ever goes wrong, and for Flash, the lack of adventure has made life rather stale.
That changes on the ride home following a trip to Ponyville. Mercenaries attack the train with their sights set on Princesses Luna and Cadance. It's up to Flash, Star Kicker, and the rest of the detail to repel the intruders and keep them safe.
If it were only that simple...
---
Part of the Winningverse. | Cover Art by: Keekoi
Chapters (4)