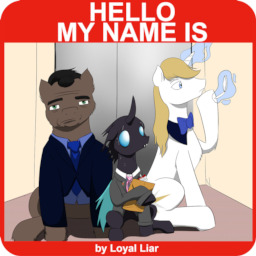 Source
Limited Liability is a changeling with a very routine life. He works at a bank. He lives with a marefriend. He goes through every day making sure he isn't discovered.
At least, that is, until the day that the hive has planned to invade Canterlot. On that day, his love runs out, and his disguise fails. Trapped in public with a chitinous body for all of Equestria to see, Liability has to find a way not only to survive, but to avoid ruining an invasion years in the making. Along the way, he learns a very interesting lesson about the ponies around him.
Written for the Equestria Daily "Outside Insight" contest.
Cover Art by Ruirik.
Chapters (1)